THOMAS Sp. z o.o. was established in 1993 as THOMAS TV Sp. z o.o. The first activity of the company was the installation and maintenance of cable television networks, and the first projects were realized for ELEKTRIM TV Sp. z o.o. These experiences allowed us to gain practical knowledge in realization of investments, making inventory and accounting for it.
The next stages of our development were closely related to accounting and finance. Working with other clients we gained the experience, among others, of organizing the circulation of documents, consolidation of financial statements, corporate reporting and others.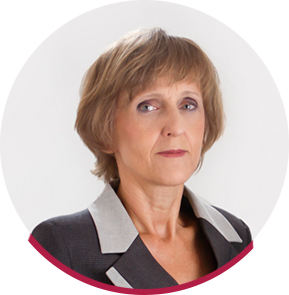 Bożena Wiklińska
Partner at THOMAS Sp. z o.o.
Bożena Wiklińska learned the ins and outs of the accounting profession in the Secondary School of Economics No. 1 in Warsaw.
She gained her professional experience in PTTK, APIS clothing plant, FATA, Silesia Film, Elektrim TV, etc., both in entry-level and executive positions.
In 1994, she joined THOMAS sp. z o.o., where with full commitment she supports clients in matters related to accounting issues. Bożena has an accountant certification issued by the Minister of Finance.
Bożena Wiklińska is a member of Maxwell Leadership Certified Team.
THOMAS
We help leaders and their businesses grow.
The key to success is a clear understanding of the company and its needs. We do this not only at the beginning of cooperation, but also during its course, in order to understand the changes occurring and to know what information may be needed on a regular basis.
Efficiency is an absolute necessity in a competitive economy. We focus on efficiency together with the client, because only together can you get the best effect. We know from experience that the lowest price does not mean lowest cost, as well as unconditional acceptance of all the expectations of one of the parties. Our job as professionals is to help you find the right way to achieve efficiency.
Nothing happens without people. They are the foundation of any organisation and its strength. They operate effectively when they have the appropriate conditions for work and development. We strive to provide these conditions.
Every day we meet new people and come up with new ways of developing our business. More and more often, we consider making a start abroad, but equally often we give up not having proper knowledge or fearing the high price of acquiring it.
IAPA International was created in response to these challenges. Our members and partners are present worldwide, supporting our clients in the areas of accounting, taxes and auditing. They also provide support in other issues related to starting and running a business abroad.
Cooperation with our international partners is also open to clients of other companies in the accounting and advisory sector, i.e. our competitors. We guarantee not to take steps to establish cooperation with their clients in the areas supported by these companies, focusing exclusively on international cooperation.
You can learn more about the IAPA International and find our partners on the organization's website.
THOMAS sp. z o.o.
ul. Cicha 5
00-353 Warszawa

tel. +48 (22) 862 88 00
e- mail thomas@thomas.pl

THOMAS TAX sp. z o.o.
ul. Cicha 5
00-353 Warszawa

tel. +48 (22) 862 88 00
e- mail thomas-tax@thomas.pl